Our Farm and Wedding Venue
Welcome to the wedding day you have always dreamed of. Our casual yet elegant farm strives to be you the picture perfect backdrop your wedding deserves. Our couples are looking for the combination of shabby rustic with farm elegance. You and your guests will spend the evening enjoying a lite tree top reception or a fine glass of wine under our glamours covered porches.  Let us be the wedding venue you and your guest well never forget.
Our Farm
Lane 57 wedding venue is settled on our 35 acre farm located just minutes east of Columbus Ohio in luxurious New Albany, Ohio.  Our home and venue was built in 19XX on land that has been part of our family for 50 years.  We offer our private guest house for relaxing either overnight or just for creating memories getting ready for the big day. The buildings are connected with covered walkways and porches only a country cottage would have.
The Bridal Suite
Relaxation starts with a good nights rest. In 19xx we built our carriage house for our overnight guests. Now we offer this to our couples wanting a true elegance wedding experience. Whether a couple wanting romantic night in front of the stone fireplace or a location for memories to be created among friends getting ready for a wedding day. Our suite with its full kitchen, queen size bed, full makeup area and of course the center piece stone fireplace will be a memories you will not forget. Click hereto learn more our bridal suite.
The Ceremony
Not all fairy tales are about walking down the aisle. Our brides prefer a country stroll from the guest house in between the 100 year old Oak trees to her loved one waiting in our gazebo covered with flowers blooming from the speckled sunlight. For those not dreaming of a gazebo during a farm tour you will see we offer several locations that will be perfect to your vision. Part of our packages we offer guest seating to accommodate a small ceremony or up to 200 guests.  If your are looking for something unique ask about our church pews that can really add a unique touch to an outdoor wedding ceremony.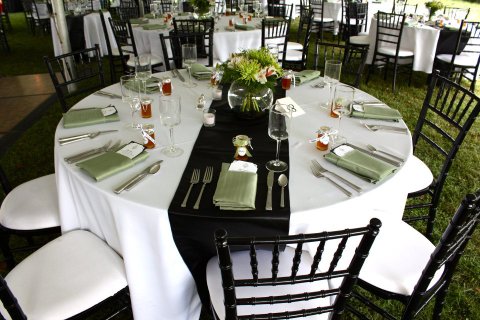 The Reception
A  rustic elegant affair under the stars, that's the dream. During your farm tour we work with you to pick the ideal spot for your event. Away from the city lights you will be seated at our 28 foot barnwood table surrounded by friends and family. You will have a choice of dining under the trees draped with decor lights or using our tent that holds up to 200 guests. All our packages include guests tables and chairs giving you one less option to worry about.  Part of creating your event is your choice of caters. We beilieve each catering company offers its own flavors and style. Which is why we work with your choice of caters to entertain and feed you and your guests.
Picture Perfect
Your wedding is about creating memories that last a lifetime. When we started Lane 57 it was our goal to be part of creating those memories. For us it was about developing a location that embraces the need for beautiful wedding photography. Ether rain or shine our wedding reception venue offers numerous locations including covered walkways and porches for your wedding photographic needs. Our bridal suite is built with wide open windows for those getting ready photos and the iconic hanging dress shot. We take pride in surrounding our wedding venue with details that embrace the style of an elegant farm wedding. Just walking around our farm offers photo opportunities of golden fields to tall timbers.
Come wedding day, you and your family can relax while our team of experts handle vendor deliveries and setup, maintain a smooth flow throughout your ceremony and reception, and provide welcoming assistance to your wedding guests.
We are more than happy to help you source the top vendors around
Owner available at all times
Day-of and evening event manager available