WEDDING VENUE ON THE FARM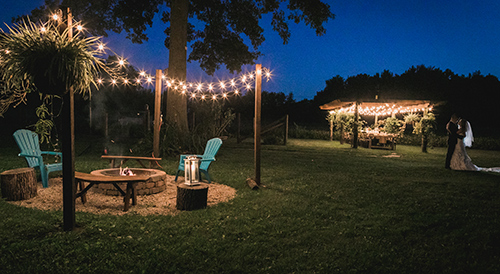 Our relaxed yet elegant farm strives to be the picturesque backdrop your wedding deserves. The beautifully manicured landscape, stunning plants and flowers, a romantic gazebo, rustic grape arbor or a backdrop of the private golf course is sure to be the perfect setting for your amazing photos and guest. Our wedding farm is a combination of elegance and romance, shabby chic or rustic, you choose. You and your guests will spend the evening relaxing and enjoying a lit tree top reception or a fine glass of wine under our alluring covered porches. Let our wedding venue be the perfect gathering place you and your guest will never forget.
THE FARM
Lane57 wedding venue is settled on 16 acres of farm land located just minutes east of Columbus in upscale New Albany, Ohio. Our home was built in 1926 on land that has been part of our family for over 150 yrs. The Doran's family was of the first founders of New Albany and the farm was established in 1843 and continues to be an active fruit & vegetable farm.
Over the years, we've hosted countless events, i.e. weddings, birthdays, graduations, etc. Lane57 offers everything you need to make your wedding dreams a reality. We take pride in providing elegance and romance for your lifetime dream wedding and memorable reception.
We offer our private guest house for relaxing either overnight, honeymoon suite or just for creating memories getting ready for the big day. The buildings are connected with covered walkways and porches only a country cottage would have.
A true natural farm landscape and unique country style facility is sure to provide an elegant setting beyond compare to any other venue around. The property outlines "The Golf Club", an exquisite private golf course that adds beauty and privacy for any venue.
Our team of experts will bring your wedding day vision to life. And, we will work diligently, attentively and imaginatively to ensure your wedding will reflect who you are as a couple and express the style with which you will live your lives together.
As unique as the ambiance of each new season, our weddings are timeless and we add elegance, country bliss and romance to every wedding venue.
Our family invites you to enjoy a part of our history, while making your own memories at our farm. Contact us today to schedule a tour.
THE BRIDAL SUITE
In 2004 we built our carriage house for our overnight guests.  Now we offer this to our couples wanting a true elegant wedding experience.  Whether a couple is looking for a romantic night in front of the stone fireplace or a beautiful setting to create lifetime memories with friends as you relax while getting ready for your unforgettable wedding.  Our suite with its full kitchen, bedroom, loft, bath, full makeup area and of course the center piece stone fireplace will be a bridal suite never to be forgotten.  Click here to learn more about our bridal suite.
THE CEREMONY
Not all fairy tales are about walking down the aisle. Our brides prefer a country stroll from the carriage house in between the 100 year old trees to her loved one waiting in our gazebo covered with flowers blooming from the speckled sunlight. For those not dreaming of a gazebo during a farm tour you will see we offer several locations that will be perfect to your vision. Part of our packages we offer guest seating to accommodate a small ceremony or up to 200 guests. If you are looking for something intimate ask about our church pews that can really add a unique touch to an outdoor wedding ceremony.
THE RECEPTION
A romantic elegant affair under the stars, that's the dream. During your farm tour we work with you to pick the ideal package for your event. Away from the city lights you and your wedding party will be seated at a rustic reclaimed barn wood chef's table surrounded by friends and family, having a choice of dining under the trees draped with decor lights or using our tent that holds up to 200 guests. All our packages include guests tables and chairs giving you one less option to worry about. Part of creating your special event is your choice of vendors. We believe each company offers its own flavors and style. We are more than happy to help you source the top vendors around and you can count on the owner to be available at all times, including day-of wedding and also an event manager on staff throughout the event.
Come wedding day, you and your family can relax while our team of experts handle vendor deliveries and setup, maintain a smooth flow throughout your ceremony and reception, and provide welcoming assistance to your wedding guests.
PICTURE PERFECT
Your wedding is about creating memories of a lifetime. When we started Lane57 it was our goal to be part of creating those memories. For us it was about creating a location on the farm that embraces the need for beautiful wedding photography. Either rain or shine our wedding reception venue offers numerous locations including covered walkways and porches for your wedding photographic needs. Our bridal suite is built with wide open windows for those getting ready photos and the iconic hanging dress shot. We take pride in surrounding our wedding venue with details that embrace the style of an elegant farm wedding. Just walking around our farm offers photo opportunities of golden fields to tall timbers.